Raymond L. Venable (1935-2008)
Associate Professor Emeritus of Chemistry, Department of Chemistry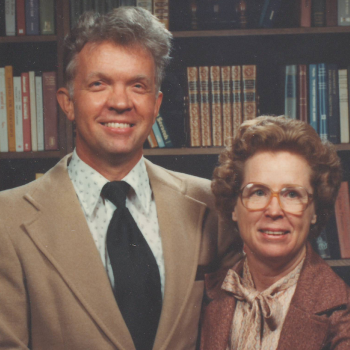 B.S. Chemistry 1955, Southern State College (now Southern Arkansas University), Magnolia, AR
M.S. Chemistry 1958, Louisiana State University, Baton Rouge, LA
Ph.D. Chemistry 1963), Louisiana State University, Baton Rouge, LA
Memorial Resolution, Raymond L. Venable, Associate Professor Emeritus, Chemistry
Raymond Leslie Venable, 72, passed away at his home in Rolla on May 24, 2008. Raymond was born on August 27, 1935 to Lester Purcell and Nancy Elnora Hope Venable near Carthage, Arkansas. Raymond married his wife, Veda Glendene Zumwalt, on December 21, 1953 at Magnolia, Arkansas. Their marriage was blessed with five daughters.
Raymond received a B.S. in chemistry in 1955 from Southern State College (now Southern Arkansas University) in Magnolia, AR. He received his M.S. (1958) and Ph.D. (1963) in chemistry from Louisiana State University in Baton Rouge, LA. In the 1950's, he was a research chemist for Texaco in Bellaire, TX. After a post-doctoral fellowship at the University of Texas in Austin, he joined the chemistry faculty at UMR (now Missouri S&T) in 1964. He taught freshman and physical chemistry. His research was in the area of surface chemistry. He was a fifty year member of the American Chemical Society. He was an active member of Sigma Xi, the scientific research society, and served a term as president of the local chapter.
Raymond accepted Christ as his Savior as a youth. He taught Sunday School for many years at Parkview Missionary Baptist Church in Rolla. He was an active member of the Rolla Gideon Camp until his health kept him from participating.
Survivors include his wife of 54 years, Glendene; five daughters, Fran and husband, Kelvin Erickson, of Rolla; Brenda and husband, Richard Williams, of Clarkson Valley, MO; Ramona Venable and husband, Richard Kaczmarek, of Fishkill, NY; Lisa and husband, Ty Teuscher, of Eureka, MO; and Theresa and husband, Dave Counts, of St. Louis, MO. He is survived by 11 grandchildren, Esther Erickson of Wettingen, Switzerland; Nathanael Williams of St. Louis; David Erickson and wife, Amanda, of Ft. Worth, TX; Nicole and husband, Victor Pacheco, of St. Louis; Jonathan, Andrew, Abigail and Matthew Teuscher of Eureka; Hayley, Morgan, and Kayla Counts of St. Louis. Also surviving is one sister, Grace Thompson, of Orange, TX and many other relatives.
Raymond is now in heaven with his parents, his brother, Bernard Venable, and a host of extended family members.
We request that this memorial resolution be incorporated into the official minutes of the Missouri S&T General Faculty Meeting of December 2, 2008 and that copies be sent to Dr. Venable's wife and daughters.
Respectfully submitted,
Gary L. Bertrand, Professor Emeritus, Chemistry
Philip D. Whitefield, Chair, Chemistry
The Memorial Resolution is Attachment C to the General Faculty Minutes of December 2, 2008. An obituary is available online from The Rolla Daily News; posted May 26, 2008 and updated Jul 26, 2012.