Chemistry Newsletter Archive
Access newsletters dating back to 2005 to hear about how the chemistry department has progressed over the years. Each newsletter was tailored to include information about staff, faculty, and exciting research projects that the department has worked on.
The Chemistry News Archive
News about the department, faculty awards, graduate students and more. Check out what developments and people have been recognized in recent years.
S&T SCHOLARS' MINE
Scholars' Mine is an online collection of scholarly and creative works. Includes "The Missouri Miner", Missouri S&T's Student Newspaper documenting student life at the university since 1915.
Breaking News
We Love Your Class
Congratulations to Dr. Jeffrey Winiarz, who received the "We Love Your Class" award for the 2018-2019 academic year! Freshmen engineering students recently cast their votes for their favorite teacher. Twenty-nine instructors were nominated by the students across nine departments .
---------------------------------
Science Publication
Researchers in the Chemistry Department at Missouri S&T have found an unprecedented, economical way to produce highly-ordered films of semiconductors for applications in flexible electronics, solar cells, and LEDs. The research is published in the April 12, 2019 issue of Science. The research was directed by Dr. Jay A. Switzer, the Donald L. Castleman Distinguished Professor of Chemistry and Senior Investigator of the Materials Research Center. The diverse research team also consisted of Meagan Kelso and Naveen Mahenderkar, graduate students in Materials Science and Engineering, Qingzhi Chen, a graduate student in Chemistry, and John Tubbesing, a senior undergraduate in Chemistry. Articles about the team & their research were recently released in C&EN and the MRS Bulletin. DOI: 10.1126/science.aaw6184
---------------------------------
Three Minute Thesis Competition
Congratulations to Siddesh Umapathi, who won the three minute thesis competition that was put on by the Office of Graduate Studies. Three Minute Thesis (3MT®) is a competition for graduate students to develop and showcase their research communication skills. Presenters are scored by the judges based on comprehension/content, and engagement/communication. Siddesh presented his work on hydrogen as a potential fuel source. He will be representing Missouri S&T in the Midwest Association of graduate schools, coming up in March.
---------------------------------
Texas Trio Achiever
Congratulations to Dr. Grubbs, who was named a Texas TRIO Achiever by the University of North Texas. TRIO Achievers are named based on their successful participation in the TRIO program and are recognized for their outstanding academic achievement. The TRIO Achiever candidate must have made significant civic, community, or professional contributions.
---------------------------------
Congratulations to Justin Beltz, Chemistry Ph.D. candidate, for winning 1st place in the local 3 Minute Thesis (3MT) competition! The idea of 3MT is to give a three minute presentation on your research topic and explain its significance to a non-specialist audience. Justin presented on "Eye drops for non-invasive prevention of cataracts." As the 1st place winner, Justin will go on to the regional competition in Milwaukee, WI in the Spring of 2020.
-------------------------
A new scholarship fund opportunity is open to young chemists currently pursuing their M.Sc. or Ph.D. It is an annual award supported by Ereztech. More information on the application process is available here.
-------------------------
Congratulations to Shuohan Huang, whose paper "Adhesion of two-dimensional titanium carbides (MXenes) and graphene to silicon" was recently published in the well revered journal, Nature Communications. Editors have requested for contributions to a Behind the Paper blog to submit more information about the research. DOI: 10.1038/s41467-019-10982-8
-------------------------
Congratulations to Dr. Rainer Glaser, who received a certificate for "excellence in peer reviewing" for the 2018-2019 year! He is one of 20 individuals that was recognized by the Petroleum Research Fund of the American Chemical Society.
-------------------------
2019 Pittcon Conference
Six Missouri S&T students from the Dr. Shi research group were selected to present their research at an international analytical chemistry conference, Pittcon Conference and EXPO 2019. Four graduate students and two undergraduate students attended, reporting on their work with biomarker analysis and antibody drug conjugates, among other topics. Congratulations to the Honglan Shi research group!
---------------------------------
MXene Publication Accepted!
Congratulations to Shuohan Huang, who has just published her first 100% Missouri S&T paper "Hydrolysis of 2D Transition-Metal Carbides (MXenes) in Colloidal Solutions" in ACS journal Inorganic Chemistry! Fundamental chemistry of MXenes is largely a terra incognita, and this is one of a few reports available on the subject, which will hopefully attract more attention to unusual chemical properties of MXenes and other 2D materials in general. DOI: 10.1021/acs.inorgchem.8b02890.
---------------------------------
Breaking News
S&T Among the Stars!
Dr. Janet Kavandi, an S&T alum and the presenter of the 2016 Stoffer Lecture, was selected for the US Astronaut Hall of Fame on January 3rd. She has logged more than 33 days in space and has orbited the earth 535 times. She has served in various leadership capacities with NASA and is currently director of NASA's John H. Glenn Research Center in Cleveland. The induction ceremony will be held April 6th, 2019 at the Kennedy Space Center Visitor Complex in Orlando, FL.
---------------------------------
Dawes as Co-Chair of 2019 DMC Conference
Dr. Richard Dawes will co-chair the 2019 Dynamics of Molecular Collisions (DMC) Conference at Montana State University. The conference is held every two years and is independently run by members in the DMC community. More information about the conference can be found here: https://tofu.msu.montana.edu/cs/dmc_xxvii_2019. Congratulations Dr. Dawes!
---------------------------------
Flygare Award Winner
Dr. Smitty Grubbs was named a Flygare Award winner for 2019. This award recognizes top young members of the molecular spectroscopy community within 10 years of receiving their PhD. The award is only given every 2 years to two individuals, which makes it rather exclusive. Dr. Grubbs will give a 45-minute lecture at the upcoming International Symposium on Molecular Spectroscopy. Congratulations Dr. Grubbs!
---------------------------------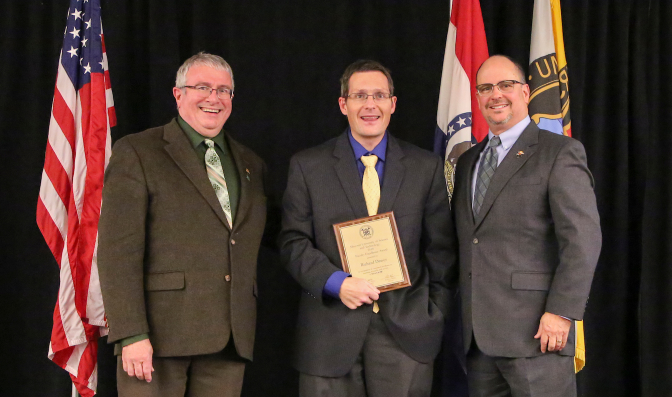 Faculty Excellence
Dr. Richard Dawes has been recognized with the 2018 Faculty Excellence Award on December 4, 2018. This award recognizes faculty members who have demonstrated sustained excellence in teaching, research, and service.
---------------------------------