Wilbur Paul Tappmeyer (1922-2016)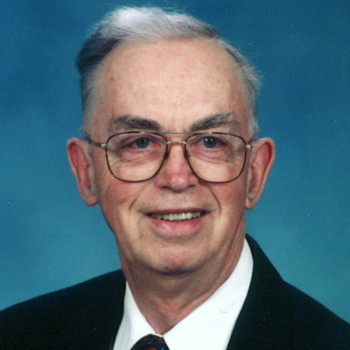 B.S. Chemical Engineering 1947, Missouri School of Mines, Rolla, MO
Ph.D. Chemistry 19__, University of Missouri, Columbia, MO
Wilbur Tappmeyer was born May 19, 1922, to Paul and Stella Tappmeyer in Drake, Missouri. He attended public schools and graduated from high school in Owensville. He earned an A.A. degree from Southwest Baptist College, an A.B. from Southeast Missouri State College, a B.S. from Missouri School of Mines, and a Ph.D. from the University of Missouri. His teaching career of 35 years was diverse and included teaching science at Owensville High School, teaching chemistry at Southwest Baptist College, and the University of Missouri-Columbia, serving as a National Science Foundation Faculty Fellow, and teaching chemistry at the University of Missouri-Rolla (UMR) before his retirement in 1985.
In 1945, thirteen Japanese American students came to the Missouri School of Mines as part of the National Japanese American Student Relocation Council. Wilbur Tappmeyer was one of the Lucy Wortham James Scholars.
Dr. Gary Lane Bertrand reported that Dr. Tappmeyer taught mainly Freshman Chemistry and, around the time he retired , Dr. Tappmeyer "counted up the number of students he had taught and it was something like 10,000 or more."
One of Dr. Tappmeyer's legacy is the establishment of the Tappmeyer Endowed Fund, which funds the annual Wilbur Tappmeyer Excellence in Teaching Awards in the Department of Chemistry at Missouri S&T. All teaching award recipients are commemorated on a series of perpetual plaques displayed outside of the department office in Schrenk Hall and they also are listed here.
In 1947 he married Marian Bender of Hillsboro, Missouri, and together they raised five children. Wilbur was an active member of Rolla First Baptist Church, where he served as deacon for many years; Rolla Rotary Club; Gideons and many other organizations, acting as president and board member for several of them. His life-long hobbies were fishing and gardening. Many times he would start his day at the closest trout park, catch his limit, and get back to town early enough to teach a full day of chemistry classes. Summer days often found him tending his garden. Even in his later years he planted, tended and harvested a corn crop in the raised garden beds at Presbyterian Manor where he lived.
Wilbur Paul Tappmeyer left this earthly life to make his home in Heaven on May 16, 2016. He was preceded in death by Marian, the love of his life for sixty-six years. He is survived by his children Edith (Harold) Gragg, Ellen (Barry) Reynolds, Mark (Linda) Tappmeyer, Alice (Rodney) Bones, and Bruce (Mary) Tappmeyer, nine grandchildren and nineteen great- grandchildren.
The above text is based on the obituary published in The Rolla Daily News from May 18 to May 19, 2016, and on the eConnection post published May 19, 2016.