Walter T. Schrenk (1891-1979)
Professor of Chemical Engineering & Third Chair of the Dept. of Chem. and Chem. Engineering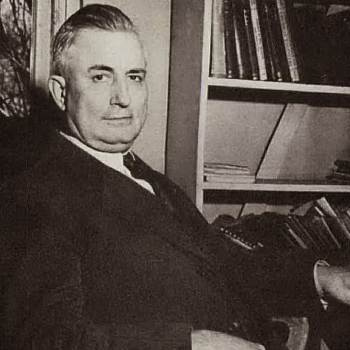 B.S. Chemistry 1915, Monmouth College, Monmouth, IL
M.S. Chemistry 1919, University of Wisconsin, Madison, WI
Ph.D. Chemistry 1922, University of Wisconsin, Madison, WI
Walter Schrenk was born in Golconda, Illinois, a sleepy little town in the southern portion of the state along the Ohio River. After high school, Schrenk attended Monmouth College and received a degree in Chemistry. Afterward he attended the University of Wisconsin where he earned M.S. and Ph.D. degrees in chemistry. Schrenk stayed at the University of Wisconsin as a Chemistry instructor until offered a position at the Missouri School of Mines and Metallurgy (MSM) in 1923, where he stayed for 38 years until his retirement in 1961. Dr. Schrenk began as an Assistant Professor in Chemistry, was promoted to an Associate Professor in 1924, and he became a Professor of Chemical Engineering in 1929. He served as Chairman of the Chemistry and Chemical Engineering Departments from 1928-56.
At the dedication of the new Chemistry Building in 1940, Chair Schrenk stated "We, in dedicating this new building, look upon these improved facilities as one of education's contributions toward America's present and future needs for technically trained leaders." The building was later named Schrenk Hall in his honor and today houses the Departments of Chemistry and of Biological Sciences.
Dr. Schrenk's first wife, Alberta, died in 1942 from ovarian cancer and, within a year, Schrenk married Irene Heimberger and moved into the Heimberger House at 106 North Olive.
From 1929-61, Dr. Schrenk served as a consultant with the Missouri Mining Experiment Station and from 1929-46 as a consultant with the Mississippi Valley Research Station, both in conjunction with the U.S. Bureau of Mines. He was the National Vice President of Alpha Chi Sigma for six years and President from 1954-56. Dr. Schrenk was voted as an Honorary Alumnus of MSM-UMR in 1958. He and his wife Irene were founding members of the Order of the Golden Shillelagh (OGS) in 1977. In 1967, he received a 50-Year Certificate and a Life Membership with the American Chemical Society. Dr. Schrenk passed away on December 8, 1979. His wife Irene passed away on June 24, 1983. Walter Schrenk was inducted into the Academy posthumously in 1998.